BREAKTHROUGH CAREER PROGRESS
Are you ready to go from feeling like an overworked, underappreciated & discontent professional to being a more confident, energized and fulfilled professional that is getting the pay, promotions, positions & perks you are deserving of, at work?
​
To get breakthrough career progress, you need to know the unwritten rules for workplace success and be on your A-game, so you stand out in a highly competitive workforce.
​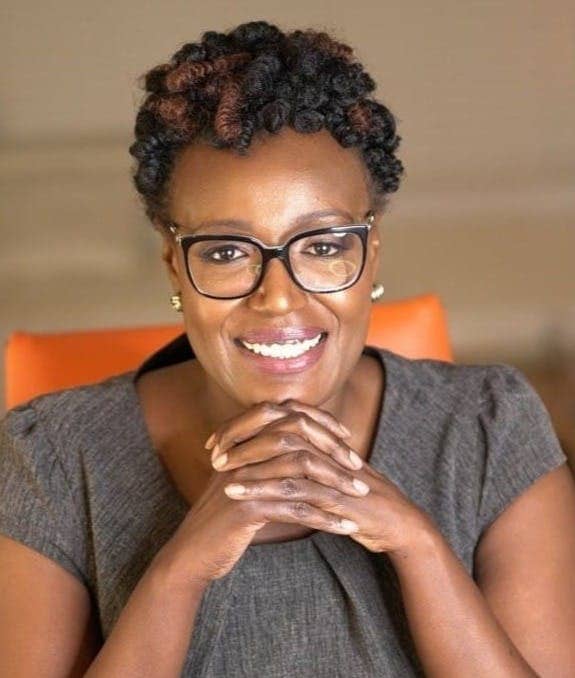 Hi, I'm Tabitha Njeri. I help people make the breakthrough career progress they have been struggling to achieve on their own. I'm here to help you achieve your personal vision of career success.
​
​Introducing…
Break That Ceiling! Career Acceleration Challenge
​

This intensive is for you if you check any 2 of the below:
​
⭕️ You are a strong performer at work and 𝐟𝐞𝐞𝐥 𝐨𝐯𝐞𝐫𝐥𝐨𝐨𝐤𝐞𝐝 for high-visibility projects, positions, or promotions.​
​⭕ You are beginning to feel 𝐮𝐧𝐝𝐞𝐫𝐚𝐩𝐩𝐫𝐞𝐜𝐢𝐚𝐭𝐞𝐝, or you feel that you are not receiving the recognition or pay you deserve.​
⭕ You have started to lose the passion you once felt for your work or are feeling burned out.
​⭕️ You have failed to raise your hand for a stretch project, promotion, or position because of 𝐥𝐨𝐬𝐭 𝐜𝐨𝐧𝐟𝐢𝐝𝐞𝐧𝐜𝐞 or self-doubt or feelings of being an imposter.​
⭕️ You think of workplace politics as draining, exhausting or unfair.
​⭕️ You understand the importance of a strong career network that includes powerful sponsors but are 𝐮𝐧𝐬𝐮𝐫𝐞 𝐚𝐛𝐨𝐮𝐭 𝐡𝐨𝐰 to build one.​
​⭕️ You realize that unwritten rules govern promotions at work and are 𝐫𝐞𝐚𝐝𝐲 𝐭𝐨 𝐝𝐢𝐬𝐜𝐨𝐯𝐞𝐫 and maximize on them.​
​⭕️ You want the clarity, guidance, and accountability to 𝐦𝐚𝐤𝐞 𝐲𝐨𝐮𝐫 𝐜𝐚𝐫𝐞𝐞𝐫 𝐠𝐨𝐚𝐥𝐬 𝐡𝐚𝐩𝐩𝐞𝐧 𝐟𝐚𝐬𝐭𝐞𝐫.​
​⭕️ You are a person of ambition and are ready to make the 𝐛𝐫𝐞𝐚𝐤𝐭𝐡𝐫𝐨𝐮𝐠𝐡 𝐜𝐚𝐫𝐞𝐞𝐫 𝐩𝐫𝐨𝐠𝐫𝐞𝐬𝐬 you've been struggling to achieve on your own.​
​
​

Career Acceleration Challenge
A 10-Session Career Acceleration Challenge
What's Included:
🔥 Ten 45-Minute Live Group lessons
🔥 A workbook to help you fully integrate every lesson.
🔥 Membership to a private Facebook group for ongoing support from Tabitha and your peers.
*All lessons will be recorded and replays available*​
​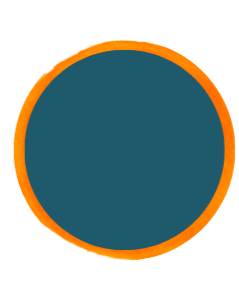 ​

​
🔎 𝐋𝐞𝐚𝐫𝐧 𝐡𝐨𝐰 𝐭𝐨 𝐛𝐫𝐞𝐚𝐤 𝐭𝐡𝐫𝐨𝐮𝐠𝐡 𝐭𝐡𝐞 hidden barriers to workplace success, so you get what you want from your career.​
🔎 𝐆𝐚𝐢𝐧 𝐭𝐡𝐞 𝐜𝐨𝐧𝐟𝐢𝐝𝐞𝐧𝐜𝐞 you need to advocate for yourself and your contributions, so you receive the pay, positions, promotions, and perks you deserve.​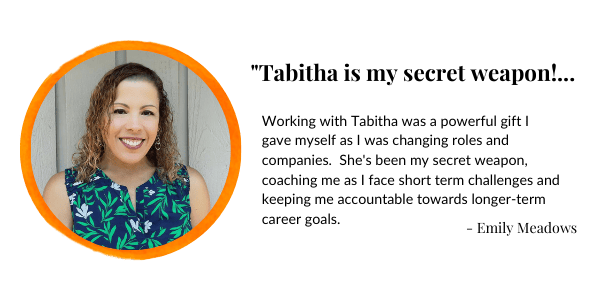 🔎 𝐃𝐢𝐬𝐜𝐨𝐯𝐞𝐫 𝐭𝐡𝐞 𝟒 𝐛𝐥𝐢𝐧𝐝-𝐬𝐩𝐨𝐭𝐬 that may be robbing you of your time, energy, and focus, and getting in the way of your career success.​
🔎 𝐋𝐞𝐚𝐫𝐧 𝐡𝐨𝐰 𝐭𝐨 𝐬𝐮𝐜𝐜𝐞𝐬𝐬𝐟𝐮𝐥𝐥𝐲 𝐧𝐚𝐯𝐢𝐠𝐚𝐭𝐞 a workplace full of competing interests, clashing personalities, and limited time and resources, so your career can progress without destructive drama.​
🔎 Know what it takes to grow your career network and align with a powerful sponsor, so you to achieve your professional goals. ​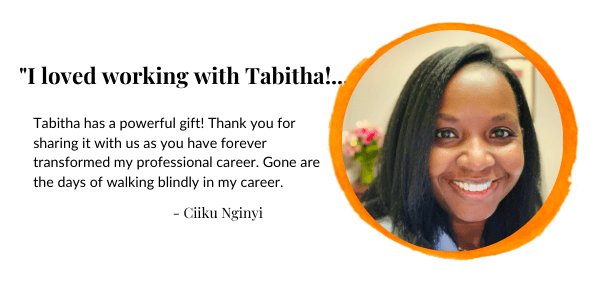 🔎 Understand what it takes to 𝐢𝐧𝐟𝐥𝐮𝐞𝐧𝐜e and rally people behind you and your ideas, even without having any formal authority over them. ​
🔎𝐃𝐞𝐬𝐢𝐠𝐧 𝐚 𝐩𝐥𝐚𝐧 𝐨𝐟 𝐚𝐜𝐭𝐢𝐨𝐧 𝐭𝐨 𝐭𝐚𝐤𝐞 𝐜𝐡𝐚𝐫𝐠𝐞 𝐨𝐟 𝐲𝐨𝐮𝐫 𝐜𝐚𝐫𝐞𝐞𝐫 and reach your highest potential--both in and outside of work.​
​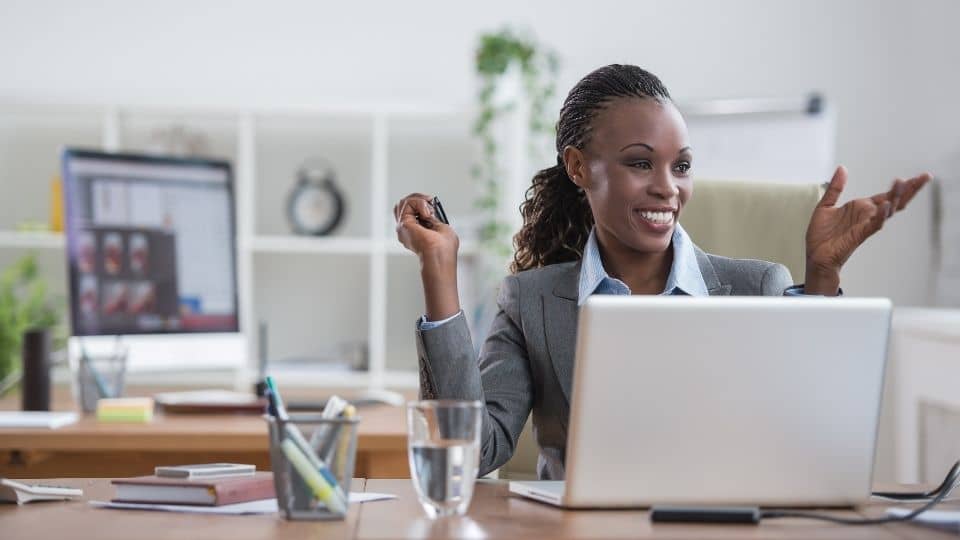 ​

The longer you do nothing, the more the career of your dreams will get derailed. Creating new workplace habits is hard to do alone - you need the support of your coach and your peers to get you out of your comfort zone and into the workplace success zone.
Don't wait another 3, 6, 9+ months just to see your future pass you by because you didn't have the knowledge, accountability and support to go for what you wanted and ask for what you deserve.
​

​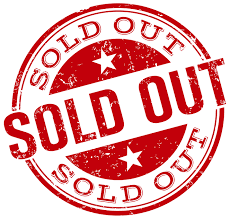 Your investment is $110 or Kshs 13,200
Twice a year, Tabitha runs a 10-Week Career Acceleration Intensive, priced at $1,500 (~KES 180,000.) However, this 10-Session Career Acceleration Challenge allows you to gain the same key knowledge at a fraction of the cost! Think of it as a "try before you buy!"
At $110 /KES 13,200, slots are filling up fast, so don't miss out. The deadline for registration is Friday, September 30.
The Program starts on Sunday, October 2, 2022, and continues for 10 days.
​
​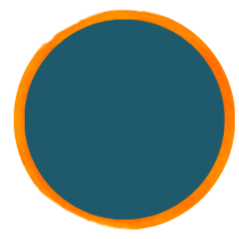 What Sylvia Had to Say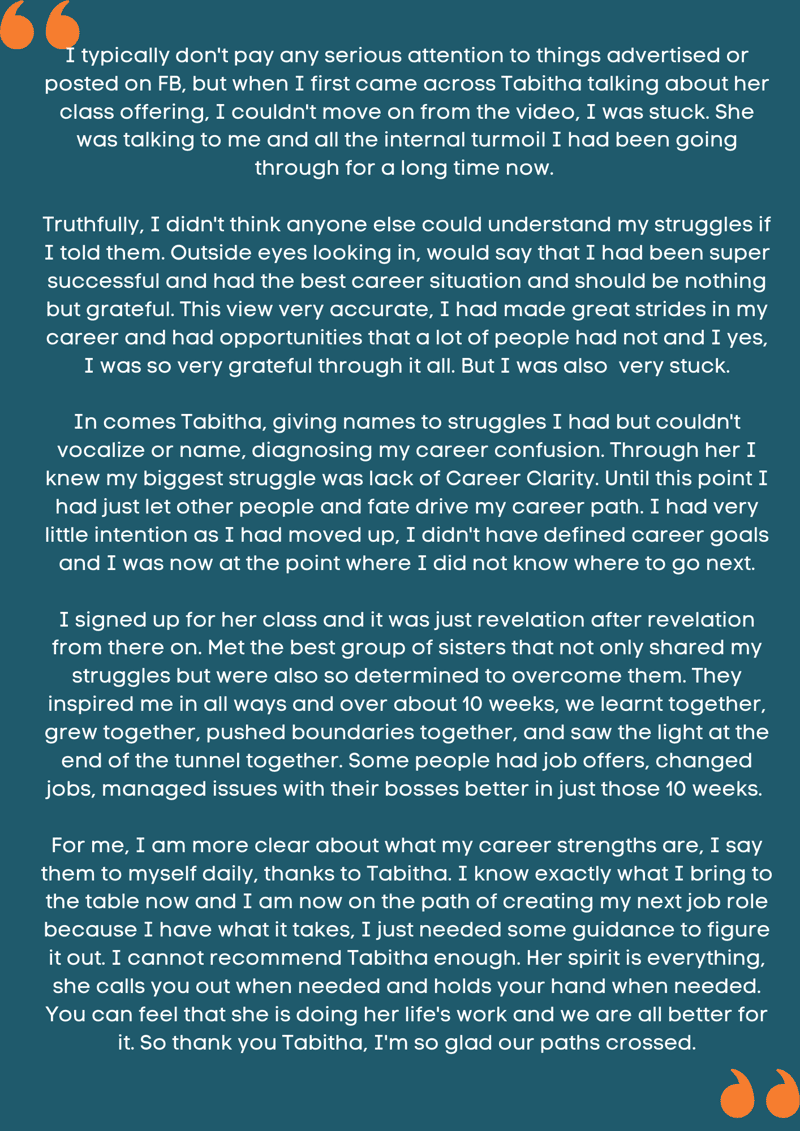 ​

1. What is the price of this challenge?
The challenge is priced at $110 (KES 13,200.) This price is a special offer that will not be offered again. Grab your spot now so you don't let the opportunity pass you by.
​
2. Is this 10-Session Challenge similar to your 10-Week Career Acceleration Intensive?
There are some similarities and some differences. The topics covered in each session are similar. The difference is that the intensive is spread over 10 weeks, and each session is about 2.5 hours long. It is also priced at $1,500 (KES ~180,000) compared to this challenge priced at $110 (KES 13,200.)
​
3. Can I sign up for the 10-Week Career Acceleration Intensive after joining the 10-Session challenge?
Yes. And if you do, your payment towards the challenge will be applied to the cost of the 10-Week Intensive.
​
4. What if I can't make the live sessions?
You don't have to worry about missing any of the sessions; they are all recorded and available for playback.
​
5. What days and times are the classes held?
Daily, for 10 days, starting on Sunday, October 2, 2022.
Option One: 1pm US EST (8pm Nairobi EAT)
Option Two: 8pm US EST (3am Nairobi EAT)
You will have the opportunity to elect one of the two options. Each session is a power-packed 30-minute lesson followed by 15 Minutes of Q&A.
​
6. How do I pay?
You can pay by card, MPESA, or Bank Transfer. Details are in the orange section below. If you make payment via Mpesa or bank transfer, send an email with your payment confirmation code to hello@tabithanjeri.com.
​
7. What happens after I pay?
If you pay by card, you will receive an instant receipt with the next steps. For all other payments, you will also be kept apprised along the way to keep you excited about the journey.
​
8. What topics will be covered per day?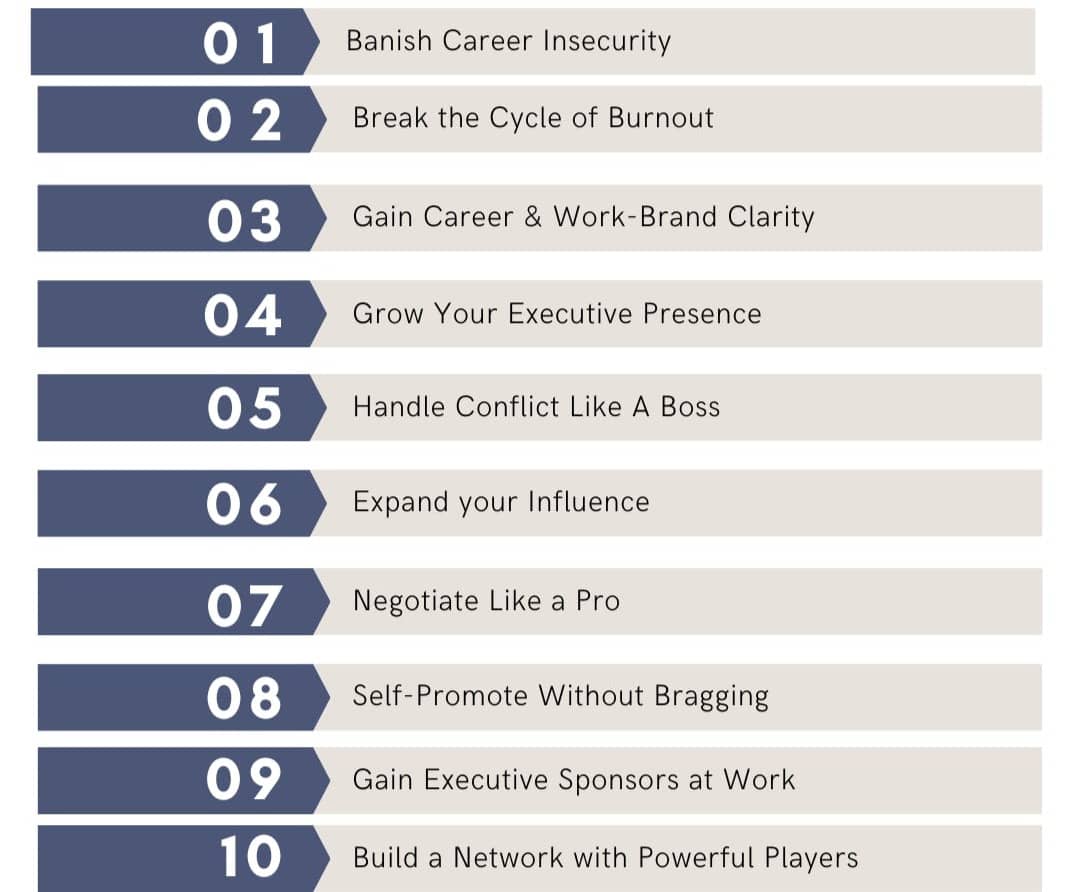 ​
---
​